Wednesday, December 22, 2010
Tuesday, December 21, 2010
Hey chicas!
Hope your keeping well and dolling up for the festive season. I am trying so hard to sit down and record some Christmas look videos but I'm so busy with an Indian bride at the moment. I will try to get at least 2 tutorials up in time for the 25th.
The other day i was browsing in Sephora and found a cute little yellow egg shaped sponge freakishly similar to the beauty blender sponge.
I thought, for 50dhs (circa 13 USD) was a pretty good price to pay if it works the same as the beauty blender which retails around 20USD.
I ended up buying it and tried it with my Studio fix fluid foundation and also my RCMA cream foundation.
The verdict? Its much denser and stiffer then the beauty blender and a lot smaller in size and does not expand like the former.
It does however apply liquid foundation beautifully. It doesn't quite bounce the same but if you sort of dab it in it works really well to blend the foundation to a lovely airbrush finish.
I would definitely buy more of these if only they weren't such a pain to clean!
They stain, therefore however much you try to wash it, it will stain. So unfortunately I will use them on myself but not on clients as they look dirty.
Sadly, I prefer the beauty blender, but this isn't a bad dupe for personal use. I think it works better with liquid foundations rather then cream due to the lack of "bounce".
Would I buy it again? Yes..if I figured how to get rid of the stains.
Anyway , thanks for stopping by and let me know if you tried it and what you think?
Ciao bellas!
xxx
Sunday, December 19, 2010
Oh my god! Its been ages since I updated my blog. I have been absolutely CRAZY busy with work. I also went away for my birthday to Lebanon..amazing trip I will blog a bit about that later.
I am planning on doing lots of tutorials during the holidays so stay tuned...
In the meantime a quick review on a new foundation iv been using...
Benefit Some kinda Gorgeous foundation faker!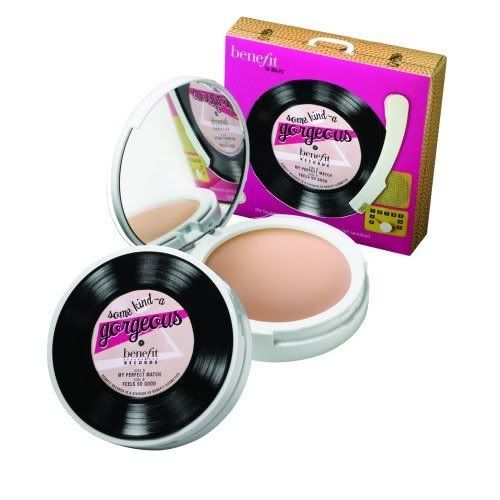 I picked this up the other day in a little gift set which came with Bad Gal lash and Coralista blush (which is absolutely gorgeous by the way) and i decided i would try out this foundation.
Okay so at first its not an actual foundation. Its more of a tinted moisturizer with a light -med coverage. It is very silky and liquid but dries to a complete powder matte finish. I really like it. Its light and airy and great if you don't like too much coverage and want to look as natural as possible (like me ).
I wouldn't recommend it to anyone who wants or needs coverage but you can simply go over blemishes with a concealer. I believe that foundation is not for coverage its for evening out skin tone, and concealer is to be dotted where needed for that beautiful flawless look.
Anyway, it comes in 3 shades which isn't great but kind of works somehow. I'm not sure the darkest shade would work for women of color because it might turn ashy.
I do like this very much and i feel as its long lasting as well.
Try it out! I got the one in medium.
xxx